The best residential roofing material for your home will be one that is cost-efficient over the life of home ownership, and not just the cheapest material you can find and have installed! A high-quality residential roofing material should offer strong insulating properties and also enhance the look of your home as well.
Metal is an excellent residential roofing material, as it's very durable and resists damage caused by hail and strong storms. Metal roofing costs are often higher for installation but metal outlasts many other residential roofing materials, making it cost-effective over the years.
While metal is fast becoming a favorite residential roofing material for homeowners, there are other options from which you might choose including traditional asphalt shingles. Knowing your options for residential roof replacement and needed repairs ensures that you're making the right decision for your home, so note some vital differences in various roofing materials. You can then also discuss your choices with a residential roofing company near you.
What Is the Best Residential Roofing Material?
Every residential roofing material has its pros and cons, including price, durability, and appearance. Obviously the more durable a roofing material the higher its cost, but remember that a new roof is an investment in your home! Check out these vital differences between residential roofing materials so you can choose the right one for your house.
Traditional asphalt shingles are affordable and easy to work with and install. A new roof installation with asphalt shingles is a cheap way to dress up a home before putting it on the real estate market, and for those on a limited budget who absolutely need a new residential roof. Asphalt shingle replacement is also typically quite affordable and manageable by homeowners themselves.
Wood shingles offer a traditional look that enhances cottage-style and Victorian homes, while cedar and other species have natural oils that make them resistant to insects and moisture damage. Wood shingles are also fully recyclable, but note that wood shingles might not even be allowed in areas that are at high risk for brushfires, lightning strikes, and the like.
Clay and concrete tiles are extremely fire resistant and also a poor host to insects and other pests. Clay and concrete tiles also offer a wide range of colors and appearances and are fully recyclable. However, these tiles are typically heavier than other options and might require added support to a home's framework before installation, which then also adds to their overall cost.
Genuine slate tiles are extremely durable and require little to no maintenance. Slate also offers a unique, timeless look that enhances a home's curb appeal in an instant. Slate is heavier than other roofing materials and often requires added bracing of a home's framework, and these tiles are also typically one of the most expensive options you might have for your home's roof.
Metal roofing is also somewhat more expensive than your average residential roofing costs, but metal is quite durable and often outlasts asphalt and wood shingles by many years. Metal also needs little to no maintenance, is easy to clean, and is also fire resistant. Metal roofs are also easy to recycle and are typically manufactured with recycled and reclaimed materials, making metal a very eco-friendly residential roofing material.
When choosing between these residential roofing materials, remember to consider the long-term costs of replacement and repairs and especially if you plan on staying in your current home for many decades to come! If you know you might put your home on the real estate market sometime in the near future, consult with a real estate agent about the roofing materials that attract the most homebuyers. A sturdy and durable metal roof might be very desirable to potential buyers, making it a great choice for as long as you own your home and for when you're ready to sell it as well.
How Not to Hire a Roofing Contractor Near You!
When shopping for a residential roofing contractor near you, it's vital that you choose a company with experience and expertise and not one that simply offers the cheapest price! Note a few tips on what to look for and what to avoid when searching for a residential roofing company near you:
You might know to look for a company that is licensed, but you should ask to see their license rather than just looking for the phrase "fully licensed" on their website! A reputable roofing company near you will be happy to include a copy of their license with any quote or estimate so you can rest assured that they are authorized to do business in your area.
A roofing company near you might have insurance but it's also good to ask about their coverage amounts and limitations. If their insurance coverage is limited to just a thousand dollars or so, this might not be sufficient to reimburse you in case of damages to your home. Check their insurance binder and stick with a residential roofing company that has several thousand dollars worth of insurance coverage.
A reputable residential roofing contractor will have certified roofing inspectors who evaluate your home's roof for needed repairs. A certified roofing inspector should also have a verifiable license so you know their work is thorough and efficient and that no detail will be overlooked when it comes to residential roof repairs you need to have done.
A reputable residential roofing company near you will have an on-time completion guarantee so that you know your repairs won't drag on indefinitely and that the company won't overextend themselves with contracts and jobs they can't finish as promised!
Be wary of a residential roofing company near you that asks for payment upfront. While a deposit might be required so that the company knows they will get paid and to ensure they can purchase needed residential roofing materials, you never want to pay a roofing company their entire quote until the job is completed to your satisfaction.
Avoid a residential roofing contractor who rushes through an inspection and the quote process, without answering your questions or explaining in detail the repairs needed for your home's roof. This might indicate that they don't want to answer those questions or don't want you double-checking their claims of needed repairs!
It's also good to avoid a residential roofing company near you that doesn't offer a few choices for asphalt shingle replacement, metal roofing, and other such residential roofing materials. An expert roofing repair company will have experience in installing a variety of roofing materials and will also know that their customers might prefer one material over another, and they should be able to offer a variety of options for your needed roof repairs and replacement.
A reliable roofing company near you should also be honest about the durability of certain residential roofing materials, repairs you might expect over the years, and the expected lifespan of asphalt, metal, or other such roofing options. Compare the information they offer with what you find online so you know you're hiring a reputable company and not one who is just telling you what you want to hear!
Does Your Home Need Emergency Roof Repairs?
If you suspect your home needs emergency roof repairs, it's vital that you call a residential roofing contractor near you right away. He or she can inspect your home and note if damage is serious and needs immediate attention or if you might put off residential roof repairs until a later time.
However, if your home has interior water leaks or you can see holes in the attic or crawlspace ceiling, you need emergency roof repairs right away! If you stand across the street and notice that your home's roof is sagging in any area or there are areas of missing shingles, it's also good to arrange emergency roof repairs as quickly as possible.
Severely damaged shingles that curl and bow or that are buckled and jutting up from the roof also need replacing and repairs as soon as possible. While patches of algae growing under shingles is not necessarily an emergency, it's vital that you have it removed soon so that it doesn't dislodge shingles and cause other damage.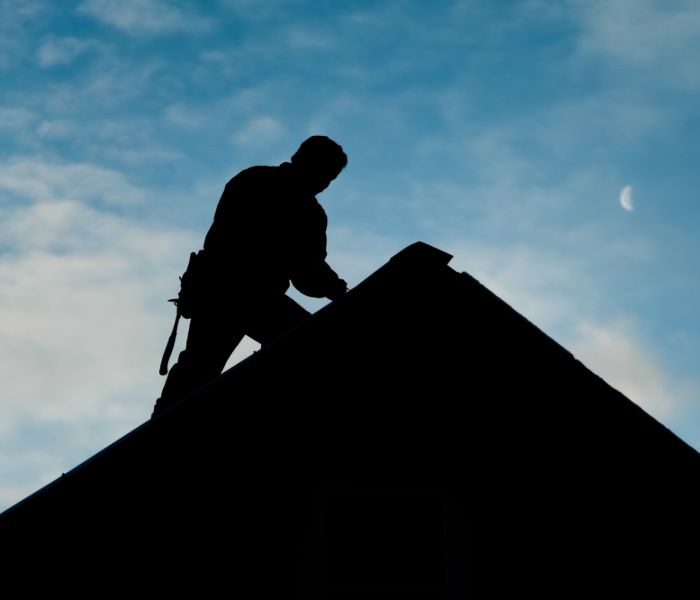 Related Questions
Can You Get a Tax Credit for Replacing Your Roof?
Only an accountant can note if any changes or improvements made to your home qualify for tax credits, but in some cases you might be eligible for a credit if you choose residential roofing materials that increase your home's energy efficiency.
What is a standing seam metal roof?
A standing seam metal roof has raised seams along the edges of roofing panels. These raised seams allow for less standing water on the roof, resulting in less risk of rust and corrosion along the metal and less risk of water damage inside the home.
What color roof is best?
One reason that metal is the best residential roofing material is that it's available in such a wide variety of colors! Choose a shade that complements your home but opt for lighter colors in warm areas and darker colors in cooler areas, to ensure maximum energy efficiency inside the home.