If your home needs emergency roof repair in Brighton, don't put off calling a residential roofing contractor! Roof leaks and other such damage will only get larger and more pronounced over time so that those repairs become more extensive, and more expensive, the longer you avoid calling a residential roofing company in Brighton.
To ensure your know how to handle an emergency roof repair in Brighton properly, you might note what constitutes and emergency and how to handle it if it should occur in your home. It's also helpful to note some tips on how to avoid residential roof repairs in Brighton in the first place, to ensure your home is always in good repair and looking its best as well.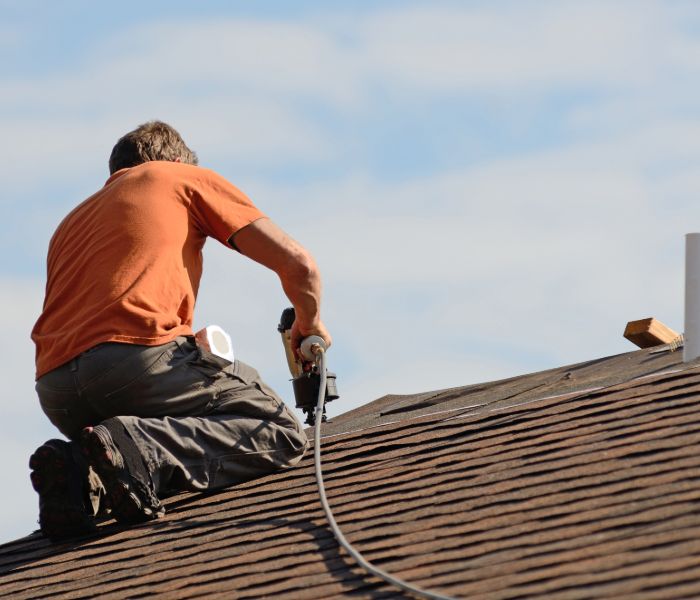 When You Need Emergency Roof Repair in Brighton
What constitutes the need for emergency roof repair in Brighton? Only a roofing contractor near Brighton can note if problems on your home's roof are a true emergency, but consider the following as well:
Water leaks coming through a home's ceiling might indicate the need for emergency plumbing repair or a backed-up air conditioning hose, but it's best to call a Brighton roofing contractor as well, to note if the leak is originating from a hole in your home's roof.
Buckled or otherwise visibly damaged shingles, especially after a hailstorm, often indicate the need for emergency roof repair in Brighton.
If your home's roof has suffered a trauma such as a falling tree branch or lightning strike, you are probably in need of emergency roof repair for your Brighton home!
Holes in the ceiling of the attic or home's crawlspace indicate the need for emergency roof repairs.
A sagging roof is in need of immediate roof repairs in Brighton! Sagging typically indicates weakness and damage to the roof joists and other parts of its framework and the roof might then be in danger of collapsing.
What Happens When You Call for Emergency Roof Repair in Brighton
If your home does need emergency roof repair in Brighton, remember that roofers cannot typically work while a storm is still in progress. High winds and heavy rains make the surface of a roof dangerous for even the most experienced roofing contractor in Brighton, and lightning strikes are dangerous if not downright deadly. Tree branches might also need to be removed by a storm damage cleanup company before roofers can access your home's roof.
Once a storm subsides, a roofing contractor in Brighton will typically inspect the roof thoroughly and note the needed repairs. He or she might then cover the roof with a protective tarp so that it doesn't suffer added damage before repairs are scheduled. In the case of fire damage, a roofing contractor in Brighton might also need to remove damaged materials, potentially making a hole in the roof larger; this is to ensure the roof is structurally stable and repairs hold up over time!
How to Avoid Residential Roof Repairs in Brighton
There are many things a homeowner can do to avoid otherwise unnecessary residential roof repairs in Brighton and keep their home's roof in good condition overall. Consider a few tips you might note for your home and property:
Prune back tree branches that hang over your home, to reduce the risk of having one fall off during a storm and land on the house itself.
Secure and lock away items around the yard that might become airborne during a strong storm and damage the home's roof. This includes children's toys, lawn care tools, small patio furniture, and other such items.
Perform needed residential roofing repairs in Brighton throughout the years. A roof in poor condition might not withstand storm damage as easily as a strong and secure roof, and missing shingles and torn flashing increases the risk of roof leaks and other such damage.
Have your home power washed on a regular basis. Professional pressure washing exposes areas of needed roof repair on a Brighton home, so you can have damaged shingles replaced and perform other repairs as needed.
When Do You Need Roof Replacement in Brighton?
In some cases, your home might not need roofing repairs but you might be ready for a full roof replacement in Brighton! One sure sign that you'll need to have your home's roof replaced is its overall age; shingles and other roofing materials have an expected lifespan and begin to get thin and brittle or otherwise suffer damage and need replacing after that time. Shingles and tiles also tend to come loose from their connectors after years of exposure to wind, rain, and other weather elements.
Curled and buckled shingles also signal that your home needs a full roof replacement. Shingles tend to curl and buckle over time or due to overexposure to harsh sunlight and weather so that it's time for a full asphalt shingle replacement in Brighton when you notice this damage.
If your home seems overly drafty or stuffy, this might also mean that it's time to consider a roof replacement in Brighton. Your home's roof is part of what keeps the interior insulated and an old roof in poor condition will let out your heating and cooling while letting in hot and cold air. Once a roof is not longer insulating a home as it should, it's time to schedule a full roof replacement in Brighton.
Should You Repair or Replace a Brighton Roof?
Never assume that you should save on the cost of needed roof replacement by opting for short-term repairs. An older roof isn't insulating your home, as said, and might also be prone to leaks that result in interior water damage and resultant mold growth.
A full roof replacement will also typically last longer than intermittent repairs so that your home is protected from damage for many years if not decades to come. Unless your home needs emergency roof repair in Brighton due to a storm or other such sudden damage, it's then good to consider a full roof replacement when needed.